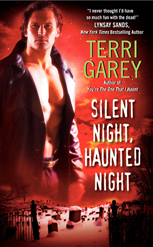 Joe Bascombe is no stranger to desire, but when a sexy spirit begins haunting his dreams, he finds himself ensnared by dark passions. What he doesn't realize is that the devious demon and her two sisters, otherwise known as the Three Fates, are out to teach the woman he loves a lesson . . .
Unwilling psychic Nicki Styx survived a near-death experience to find herself able to see and hear the dead, but she only has eyes for Joe. Together they've conquered evil spirits, saved lost souls, and beaten back the Devil himself, but they're about to learn that there are more things in Heaven and Hell than they ever imagined. As far as Nicki is concerned, Joe is the man of her dreams, but now they're at the mercy of the creature who's invaded his.
It'll be a Christmas to remember . . . and it could be Joe and Nicki's last.
ISBN-10: 0061582042
ISBN-13: 978-0061582042
Publisher: Avon
Release Date: Oct 27
Pages: 352
Retail Price: $6.99


ISBN-10: 1416578463
ISBN-13: 978-1416578468
Publisher: Pocket
Release Date: Oct 27
Pages: 352
Retail Price: $7.99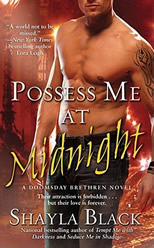 As a mysterious dark cloud drains the life of her beloved brother, Doomsday Brethren leader Bram, Sabelle Rion can think of little else. Still, every time she meets Ice Rykard's intense green gaze, her body aches with need for the sexy warrior. Their attraction is explosive, incredible—and forbidden. As dangerous as he is unpredictable, Ice is her brother's sworn enemy. But as Bram weakens, a more sinister force is gaining power. Evil Mathias and his ruthless Anarki army are on a bloodthirsty hunt for the Doomsday Diary.
Sabelle must guard the potent book with her life—and Ice vows to protect the beautiful witch with his. Duty demands that Sabelle deny her lover's fiery call of possession and mate with a man who can sway the magical Council against the impending rebellion. With the fate of magickind hanging in the balance, will she forsake the burning desires she can't ignore or turn her back on her people for the courageous man she can't resist?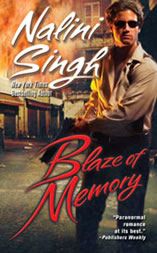 ISBN-10: 0425231119
ISBN-13: 978-0425231111
Publisher: Berkley
Release Date: Nov 3
Pages: 400
Retail Price: $7.99
Dev Santos discovers her unconscious and battered, with no memory of who she is. All she knows is that she's dangerous. Charged with protecting his people's most vulnerable secrets, Dev is duty-bound to eliminate all threats. It's a task he's never hesitated to complete…until he finds himself drawn to a woman who might yet prove the enemy's most insidious weapon.
Stripped of her memories by a shadowy oppressor, and programmed to carry out cold-blooded murder, Katya Haas is fighting desperately for her sanity itself. Her only hope is Dev. But how can she expect to gain the trust of a man who could very well be her next target? For in this game, one must die…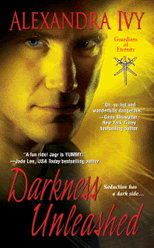 ISBN-10: 1420102974
ISBN-13:978-1420102970
Publisher: Zebra
Release Date: Nov 3
Pages: 384
Retail Price: $6.99
A scarred recluse, Jagr makes no secret of his disdain for others' company. But now, as a member of Chicago's powerful vampire clan, he has certain obligations to fulfill. The latest: track down a missing Were pureblood and return her to her sister. The problem: Regan Garrett has no intention of complying. And though Jagr agreed not to harm an inch of this stubborn female's distractingly tempting body, he'll gladly kiss her into submission, awakening an urge he hasn't felt in years. hell, in centuries...
Regan vowed never to be at the mercy of another man. That goes double for arrogant, steel-muscled vampires with eyes of ice. All Regan wants is revenge against those who imprisoned her. She doesn't need an ally. She certainly doesn't need a mate. But soon soon Regan will have to choose--between a lust for vengeance, and a passion as dark and dangerous as the night...
Seduction Has a Dark Side...