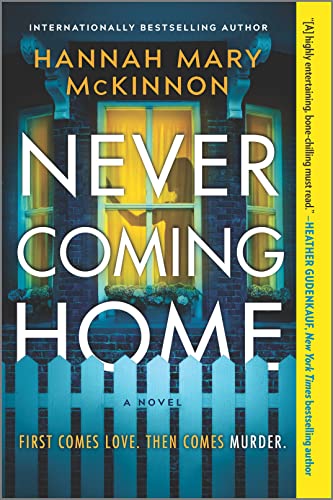 First comes love. Then comes murder.

Lucas Forester didn't hate his wife. Michelle was brilliant, sophisticated and beautiful. Sure, she had extravagant spending habits, that petty attitude, a total disregard for anyone below her status. But she also had a lot to offer. Most notably: wealth that only the one percent could comprehend.

For years, Lucas has been honing a flawless plan to inherit Michelle's fortune. Unfortunately, it involves taking a hit out on her.

Every track is covered, no trace left behind, and now Lucas plays the grieving husband so well he deserves an award. But when a shocking photo and cryptic note show up on his doorstep, Lucas goes from hunter to prey. 

Someone is on to him. And they're closing in.

---

Release Date: May 24, 2022
Publisher: Harlequin
Imprint: MIRA 
Price: $9.99
---
Lucas Forester is dealing with terrible events in his life. His wife Michelle was abducted a month ago, his mother-in-law is dying of cancer, and he's helping his brother-in-law stay clean and sober. Detective Anjali Dubal is concerned about Michelle but tells Lucas not to give up hope. Lucas seems like a devoted husband and friends envy his perfect marriage to the beautiful and wealthy Michelle. However as a little more time goes by, it's clear that appearances can be deceiving and Lucas has been keeping secrets.
This book is different from the typical domestic suspense novel. For one thing, the whole book is told from the husband's point-of-view. However, the main thing is that even though Lucas lies to the other characters in the book, there is nothing ambiguous about his narrative. He makes it clear very early in the book the kind of person he is and what his plans are. The suspense in the story comes from wondering what is going to happen next and if someone really knows about the things he has done. The first person narration style is perfect for the book and gives the reader a firsthand look at the real Lucas. Lucas is a compelling character and even though he does some terrible things, his narrative is darkly funny.
Never Coming Home is fast-paced and entertaining. This is the first book I've read by this author, but am impressed by how clever the plot is. The ending is surprising, but fitting based on all that went on throughout the story. There are times I had to suspend disbelief, but still found this to be a good book that was fun to read.
~ Christine