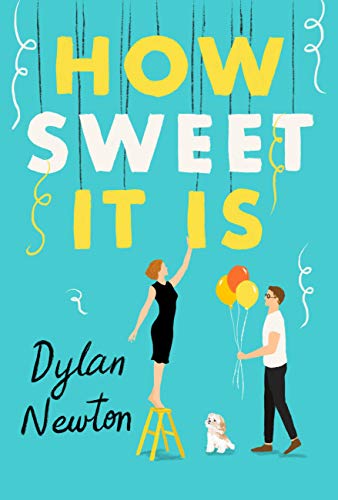 Event planner Kate Sweet is famous for creating the perfect happily-ever-after moment for her clients' dream weddings. So how is it that her best friend has roped her into planning a bestselling horror writer's book launch extravaganza? But the second Kate meets—or rather, accidentally maims—the drop-dead-hot Drake Matthews, her well-ordered life quickly transforms into an absolute nightmare.

Drake Matthews is tired of the spotlight and tired of his reputation as the Knight of Nightmares. He's really a nice guy! But he's not prepared for Kate, a fearless agent of chaos in steel-tipped stilettos, or for that sweet sting of attraction he feels for her. She's inspiring him to take his writing in a whole new direction—one that no one expects. Because now Kate and Drake are changing up the rules, and this plot twist might just surprise everyone . . . including themselves.

---

Release Date: Jul 12, 2021
Heat Level: Warm
Publisher: Grand Central 
Imprint: Forever
Price: $9.99
---
"'The best part about our romance is that it's not plotted out. I never know what the next chapter will bring with you." Drake kissed the tip of her wet nose. "But if it's anything like the rest of our story, I have a feeling we'll be together until 'The End.'"
Have you ever had a day that is so disastrous and catastrophic that you cannot possibly do anything other than laugh out of complete embarrassment?  The Queen of Happily Ever After, Kate Sweet, has one of those days that thrust her straight into the arms of her new client the Knight of Nightmares himself, horror writer extraordinaire Drake Matthews, during their first official meeting. Kate is perfection personified. She never loses her cool, always has it together, and can make any event a success.
Things with Drake go horrifically wrong from the first second they encounter each other. He does not know if she is the right person to plan his book launch, and she needs to prove to Drake that she is worthy of this job so she can win the prestigious EVPLEX award. Drake has a secret and decides to use the self-proclaimed Queen of Happily Ever After to research a new book that he is drafting that is unlike anything he has ever written before.
The title of this book accurately portrays what I thought about it. It was an undeniably syrupy sweet, light-hearted read with very low angst. This story was a blast, and it kept me laughing from the beginning to the end. I had a smile on my face the entire book. Kate and Drake's chemistry leapt off the page. Their quick-witted and lively banter was a thrilling and satisfying addition to the story. My only complaint would be that sometimes during the middle of the book that the pacing slowed down so much that it felt that it was lagging along from time to time.
This is my first book by Dylan Newton, but it definitely will not be my last. I think that fans of authors like Sally Thorne or Sophie Sullivan will enjoy this romantic comedy.
~ Michelle