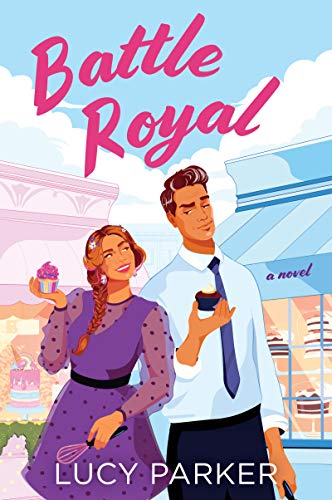 Ready…
Four years ago, Sylvie Fairchild charmed the world as a contestant on the hit baking show, Operation Cake. Her ingenious, creations captivated viewers and intrigued all but one of the judges, Dominic De Vere. When Sylvie's unicorn cake went spectacularly sideways, Dominic was quick to vote her off the show. Since then, Sylvie has used her fame to fulfill her dream of opening a bakery. The toast of Instagram, Sugar Fair has captured the attention of the Operation Cake producers…and a princess.
Set…
Dominic is His Majesty the King's favorite baker and a veritable British institution. He's brilliant, talented, hard-working. And an icy, starchy grouch. Learning that Sylvie will be joining him on the Operation Cake judging panel is enough to make the famously dour baker even more grim. Her fantastical baking is only slightly more troublesome than the fact that he can't stop thinking about her pink-streaked hair and irrepressible dimple.
Match…
When Dominic and Sylvie learn they will be fighting for the once in a lifetime opportunity to bake a cake for the upcoming wedding of Princess Rose, the flour begins to fly as they fight to come out on top.
The bride adores Sylvie's quirky style. The palace wants Dominic's classic perfection.
In this royal battle, can there be room for two?

---

Release Date: Aug 17, 2021
Heat Level: Sensual
Publisher: HarperCollins
Imprint: Avon Books
Price: $10.99
---
A lovely first in Parker's new series, Palace Insiders.
There is something whimsical about enemies to lovers romances, when you add in the fact our hero and heroine are rival bakers who are also judging the same reality television show it adds something extra special.
Sylvie Fairchild is a woman who's had a tough life, fought for everything she ever wanted, and at her heart is a true romantic. I loved her with the same amount of affection as she has for using glitter in her baking. Her bakery, Sugar Fair, sits across the street from her number one competitor. The rival bakery owned by the infamous Dominic De Vere. Dominic is the grumpy, logical, and detached hero that begs to be taken down a peg or two by Sylvie's sweetness, among other things.
Outside of fabulous character development, there's multiple competitions from judging the reality show Operation Cake to competing for a chance to create a cake for a royal wedding along with several small mysteries. Each plot point forces Sylvie and Dominic to work together to get further with their individual goals, but along the way they fall for each other… of course.
Parker infuses these adventures with plenty of heartfelt moments, humor (I couldn't contain my laughter at some points), and relatable scenarios around family, friendship, and love. I can't wait to see who gets the next book. There is also Parker's ability to create an entire cast you want to root for and others you don't want to succeed.
Overall, this is a book I easily was hooked on from the first page with a story that made emotions run the gamut. Definitely a great rom-com and I highly recommend for readers who enjoy Christina Lauren or Sally Thorne.
~ Landra