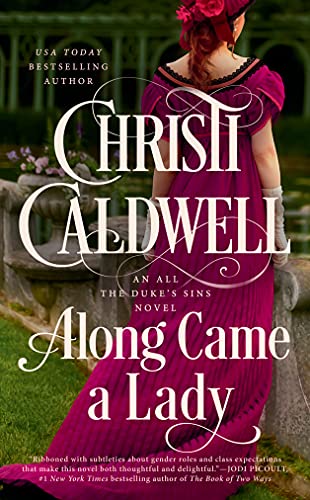 Rafe Audley lives to thwart his father, the Duke of Bentley. The ne'er do well who abandoned his children claims he wants to make up for his failures, but Rafe only cares about protecting the people of his mining community and providing for his three siblings, who've been his sole responsibility since childhood. So far, Rafe has turned away the duke's man of affairs, solicitor, and other interlopers, until the clever duke sends the unlikeliest of people to convince Rafe to join English High Society—a bold and intriguing woman.

Edwina Dalrymple has never failed a charge. She's quite adept at successfully transforming young women of the gentry and daughters of newly minted lords to take their place in society. Taming a bastard son of a duke will be child's play, plus this job promises to enhance her reputation within the ton. All she has to do is fetch the wayward Rafe and groom him to be presentable to Polite Society. 

As the tenacious teacher and her domineering, stubborn, refuses-to-be-taught pupil engage in a fiery battle of wills, their chemistry ignites and the true lesson becomes clear: opposites attract and hearts must be heard.

---

Release Date: Aug 24, 2021
Series: All the Duke's Sin
Book: 1
Heat Level: Hot
Publisher: Penguin Group
Imprint: Berkley
Price: $5.99
---
Rafe Audley is the illegitimate son of the Duke of Bentley.  Rafe has never had contact with his father.  His mother had four children by the duke and not once did he visit his children.  When Rafe was thirteen his mother died while giving birth.  Rafe was left to take care of his newborn sister and his two younger brothers.  Rafe began working in the coalmines as a child and worked his way up to head foreman.  Eighteen years after his mother died, the duke sends solicitors to make contact with Rafe, who shuns all their attempts. 
Miss Edwina Dalrymple is an instructor in etiquette to the daughters of wealthy merchants and powerful families of gentry.  Unexpectedly, she is approached by the Duke of Bentley to bring his long-lost son to London.  Edwina is offered a great deal of money and, more importantly, a chance to work in the elite circles of society.  A good reference could ensure her a successful career.  She is tasked with convincing Rafe Audley to accompany her to London and agree to lessons on behavior in polite society in preparation for him attending a season with his father, the duke, in London.  
I loved this story.  Christi Caldwell has written about Regency England high society from the perspective of illegitimate children.  We are taken on a journey through the eyes of these children who have varying feelings of hatred, jealousy, and curiosity about their parents and the society that they are not a part of due to the circumstances of their births.  She shows us what life might have been like for these offspring.  She creates characters that are compelling in their beliefs but also in their ability to see reason when presented with new, unknown, information.  The author brings us into places with vivid details that make us feel we are truly present, from coal mines to country inns and to great ducal estates.  While the author did not use entirely period appropriate language, terms are modernized, it did not bother me. 
Most of the couple's encounters are passionate and full of emotion but there is some graphic sex.  I loved this book. I will reread it in the future and I hope there are sequels involving the Rafe's siblings. 
~ Andrea